Hello all! I'm new to the board and my real job, besides being a FF/EMT as well as a fire police officer in my township, is selling and installing 2 way radio equipment as well as police, fire and EMS equipment. I just thought I would post up some of our popular selling lighting for those that may be interested. We are also a factory authorized dealer for the Smith & Warren Badge Company and carry a full line of badges as well as badge related accessories (wallets, carriers, etc.) so if there is anything that you may need, please feel free to let me know. Thanks for looking, and stay safe.
The first light we sell is our popular dual lamp linear dash LED. This light features SUPER BRIGHT linear LED modules and comes complete with a switched cigarette lighter plug. It is nearly identical to a very popular light on the market, (sorry, we aren't allowed to say which one, but you should know which it is) but ours has a major difference... PRICE!! This light sells everyday for just
$85.00, ANY COLOR
, and that includes shipping. You can buy 3 of these for the price you would pay for just 1 of those "other" lights.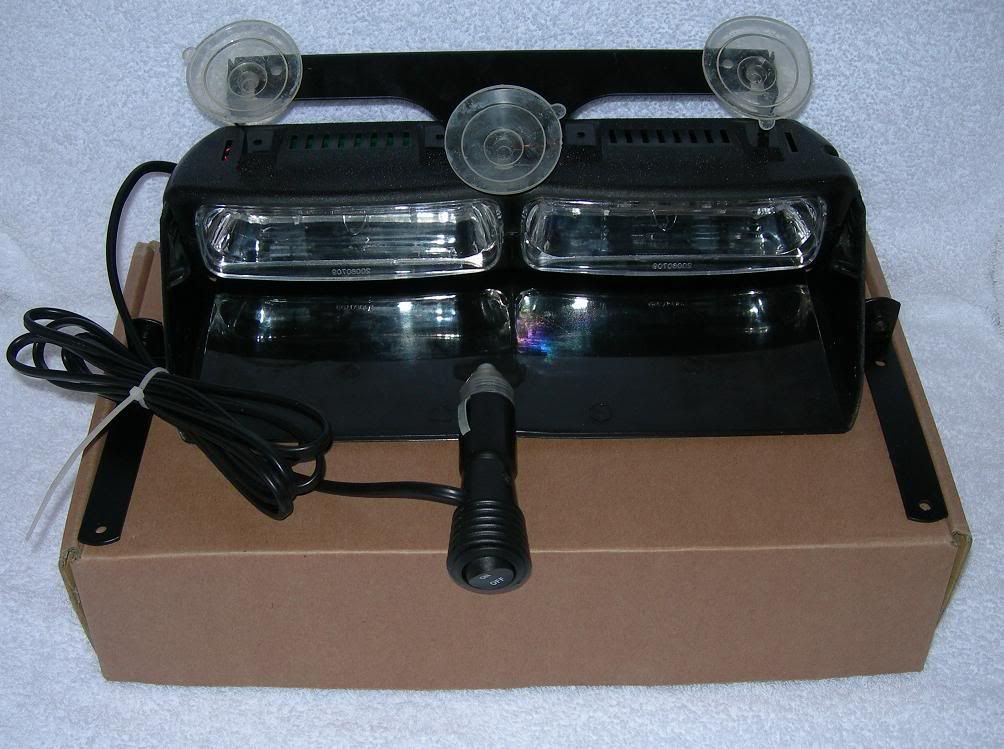 Our next lamp is IDENTICAL to the light currently being sold in the current Galls catalog (Item # 8F-DL137). It has 16 patterns, 43 LEDs per side, 2 digit display assigning each pattern a number (No guessing what pattern is what. Just remember it's number!). 3 power switches (1 on the front of the unit and one on each side making it easy to turn on or off from either seat in the vehicle). Up/down pattern switches so you don't have to scroll through all the patterns if you miss the one you want.
It measures 12 4/5" wide, x 4 1/4" high x 1 1/4" deep and only draws between .70 and 1.40 amps (depending on pattern). It comes complete with Velcro straps making mounting it to your sun visor a snap. Price for this light is
$90.00, ANY COLOR!!
That's less than half of what Gall's charges for a blue/blue unit.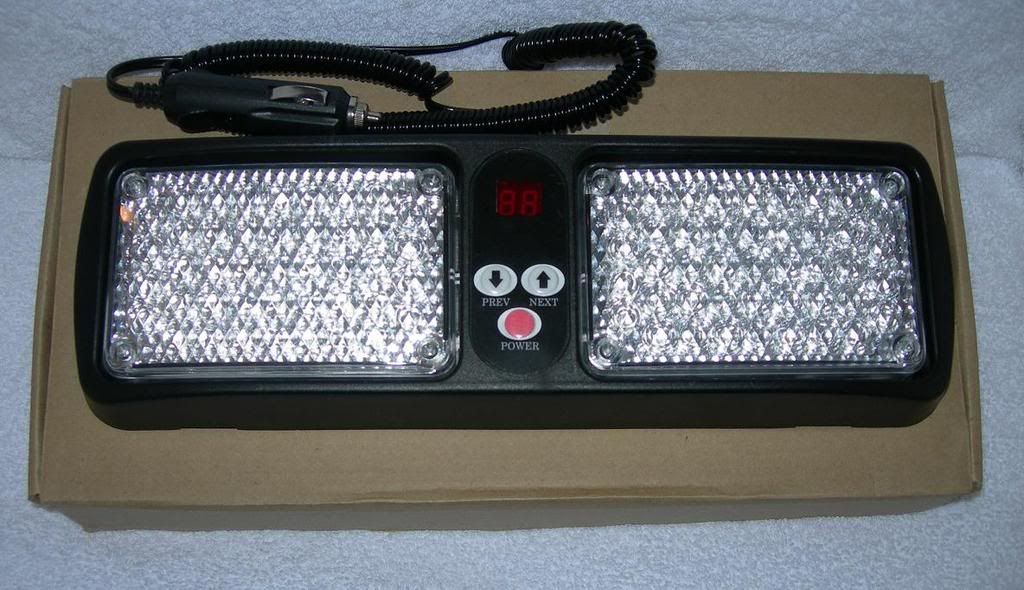 One of our best sellers, this strobe kit offers everything that you could want in a hide away kit. It comes complete with a 6 outlet, 90 WATT power supply! (Why settle for a 6 outlet, 60 watt pack like most kits in this price range offer??) Also, unlike most kits in this price range, ours comes complete with 6 bulbs and cables, not 4. The cables are fully shielded and come complete with standard AMP style connectors. One other thing that most packs in this price range don't offer... MULTIPLE PATTERNS!! 11 to be exact. You can wire the pack so either 2 strobes fire, 4 strobes or all 6 strobes. Our everyday price for this kit is $230.00, but for members of the board we are offering it for
$225.00
AND including free ground shipping.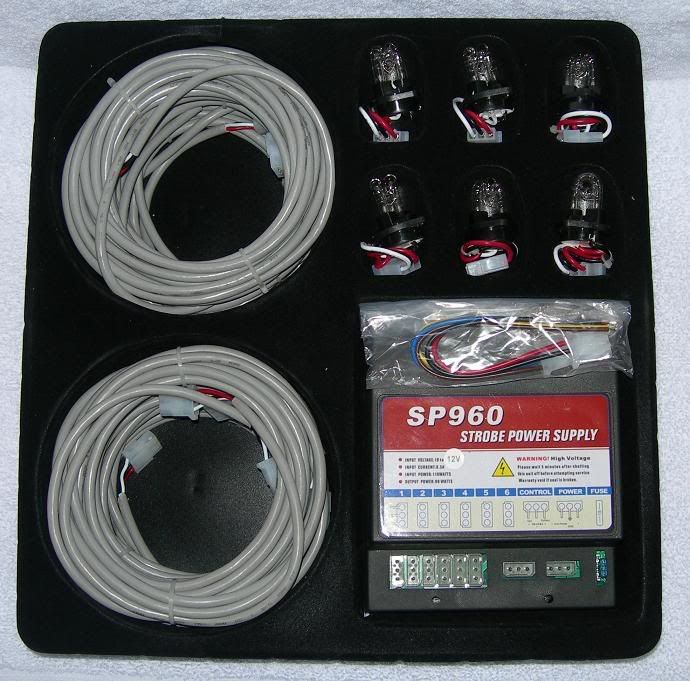 Last is our VERY POPULAR 14 head LED low profile mini bar.
$385.00, ANY COLOR, SHIPPING WITHIN PA INCLUDED IN THAT PRICE!!!
1 watt, Gen 3 LEDs make this bar UNBELIEVABLY BRIGHT!!! It comes with a 10' cord and cigarette lighter plug with a power switch attached to it. It measures 12' from front to back (same depth as a Edge strobe bar) and 28" wide making it perfect for smaller cars. Each light module contains 4 LEDs. It has 4 modules to the front, 4 to the back, two on each side and 1 on each front corner angled for intersection warning. That's a total of 14 modules!! Best of all is it's height. That is a standard roll of packing tape in the last picture. The top of bar sits less than 3" from the roof of your car.
FRONT

All of our merchandise comes with a warranty, so buy with confidence! We accept Visa, Master Card, Discover, debit cards, check and money orders as well as DEPARTMENT purchase orders. Please feel free to call us at (845)699-9361 with any questions or if you wish to place an order.
We are also looking for distributors. Do you feel like you could use some extra money? (Who couldn't?) Want to start a small side business selling emergency vehicle lighting? Drop us a line and we'll talk. Thanks for looking, and stay safe.
Chuck
Pike County Communications
(845)699-9361