OK, first off, I'm not trying to spam the board.
Second, while the link I'm posting in this thread is to a religious group I am in no way endorsing that church or trying to evangalize to anyone on this list. As a very vocal Atheist I'm the last one who would normally bring up using the services of many church based aid programs.
Heck, I'm the guy who wears a Atheist cap out and about.
See?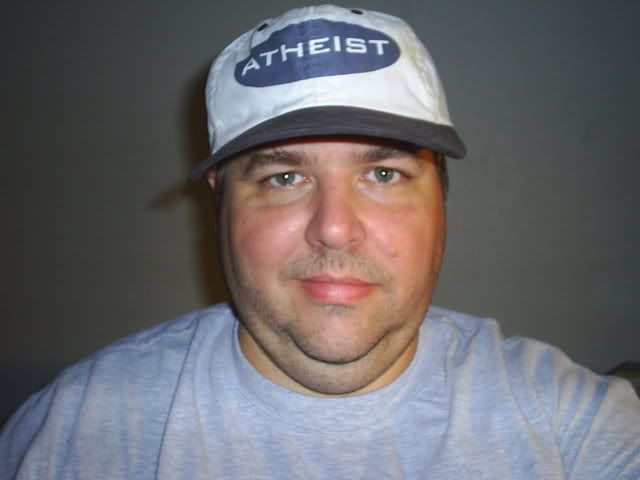 Just took that here at my desk.
So if there's any problem with this thread I am perfectly fine with the moderators moving or removing it. I posted it in the General Discussions for greatest coverage.
ANYWAY....
The point is that we have had discussions here about how hard it is making ends meet while employeed as Security Officers. Many of us are barely scratching by. We look for ways to save money on the the things we buy.
Recently I read a newspaper article about a local church which had become part of the Angel Food
http://www.angelfoodministries.com/default.asp
network which is available in about 32 US States. It's not free. The deal is that it's like a bulk buy program. Local churches take orders for "menus" that are sent out each month and the orders are filled in Georga and shipped to the local churches to be distributed. Similar to the FDA commodities food program but without the requirements to be below the poverty line. Instead, you buy pay for the groceries, usually about $25 average. Because of the bulk buy they use you receive about $50+ of stuff.
A typical menu may look like this-
(4) 5 oz. Ribeye Steaks
(1) 3 lbs. Breaded Frying Chicken
(1) 2 lbs. Salisbury Steak Entree w/ Gravy
(1) 24.5 oz. Supreme Pizza
(1) 2 lb. Chicken Chunks
(1) 24 oz. Pork Roast
(1) 16 oz. Chicken Breast Fajitas
(1) 12 ct. Corn Tortilla
(1) 15 oz. Pork & Beans
(1) 16 oz. Fresh Carrots
(1) 24 oz. Homestyle Hashbrowns
(1) 16 oz. Corn
(1) 16 oz. Bean Soup Mix
(1) 5.5 oz. Pancake Mix
(1) 7.5 oz. Mac & Cheese
(1) 7 oz. Lasagna Dinner
(1) Dessert Item
That's about $25. You can preorder as menu menus as you want for $25 each. You can also spend about $18 each on Special Menus which are offered each month. Here's what was offered this month for us....
** One or more specials available only with the purchase of a regular unit. **
OCTOBER SPECIAL #1
Meat Combo Box - $18.00
(4 8-oz. T-Bones, 2 lb. Ribeye Roast)
OCTOBER SPECIAL #2
Strip Steak Special - $18.00
(4 8-oz. K.C. Strip Steaks, 4 8-oz. New York Strip Steaks)
OCTOBER SPECIAL #3
Family Convenience Meal Special from Golden Cuisine - $18.00
(Five Delicious Individual Dinner Entrees with 2 sides per meal: Cheese Manicotti, Macaroni & Beef, Beef Pattie & Gravy, Chicken & Noodle, Chicken Breast & Mushroom Sauce, Includes five breads, five milks, ten margarine cups, and five desserts.)
In a couple of weeks the orders arrive at the church, you show up with a big cardboard box and they send you home with your order.
You don't have to be in a specific economic range. As long as you have the money you can buy in. They even accept Food Stamps. If a godless hethen like me can take part, anyone can.
So, I drove out to the nearest church in the program last week and put in my order for one box. I'll get off work in a couple of Saturdays and stop by on my way home and pick up my order. I picked up a couple of fliers while at the church and passed on the info to my fellow Security officers. At least one of the Scale Operators we work with ordered a box also.
To learn more about the progam check out their website at
http://www.angelfoodministries.com/default.asp
.
There you will find tabs to click to find out if the program is available near you.
I hope this has been informative and useful to some here on the board.
Steve