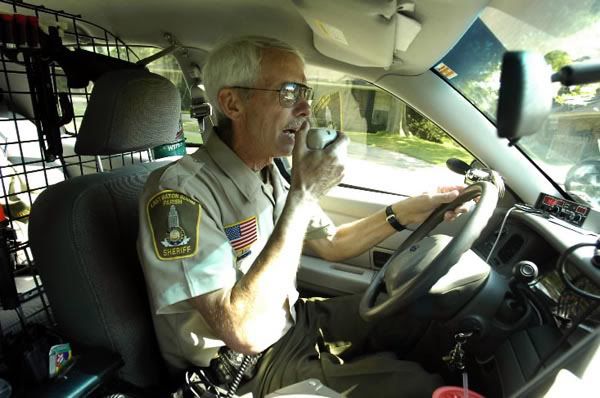 East Baton Rouge Parish Sheriff's Office Deputy Robert Buquoi talks on his radio during his off-duty patrol of Shenandoah Estates. Tom Hirschey, of the Shenandoah Estates Home Owners Association, recently had to cut Buquoi's hours because Buquoi's wage went up and association membership has not.
From
Competition for security hurts civic groups
By KIMBERLY VETTER
Advocate staff writer
Published: Sep 4, 2007 - Page: 1A

Catching speeders is how East Baton Rouge Parish Sheriff's Office Deputy Robert Buquoi spends most of his time during his off-duty patrols of Shenandoah Estates.

"The people who live along Antioch right here call their street the 'Antioch Dragway,' " Buquoi said. "We're trying to change the name of that street for them."

Buquoi and another off-duty deputy patrol the south Baton Rouge subdivision 66 hours a month for $25 an hour, said Tom Hirschey, who is in charge of security for the Shenandoah Estates Home Owners Association.

The association used to hire six deputies for 96 hours at $20 an hour, the minimum pay off-duty deputies and police officers can make, Hirschey said.

But a steady increase in competition for the deputies' work and a lack of additional association revenue forced him to cut security services.

"I can't afford any more hours," Hirschey said, adding that some entities are paying close to $50 an hour for off-duty law enforcement services.

"It's good for the officers and deputies, but it's creating problems for us."

Tom Juneau, head of Kenilworth Civic Association's security committee, is facing the same problem.

Juneau said he has to limit the number of hours a private security guard works because of finances. The security guard works 12 hours a week, he said, adding he would like to be able to hire him for 20 hours per week.

If civic association membership does not grow, Hirschey and Juneau said, they will have to cut security services even more.

To get people to pay, the men are looking at creating a crime prevention district, an option that has worked for some subdivisions but not others.

A crime prevention district is a political subdivision designed to prevent crime through methods such as environmental design, education and off-duty patrols.

Legislators and people living within a district's boundaries must approve a district before it's created. If approved, residents in the district are charged a parcel fee and a board of commissioners decides how that money is spent.

Philip Mayeux, past president of the Wedgewood Civic Association, spearheaded the creation of the Wedgewood crime prevention district, which 69 percent of voters within the district approved last year.

The district's commissioners plan on using district funds to hire more off-duty police officers, Mayeux said.

Currently, two officers patrol the subdivision 25 hours a month. By February, Mayeux said, the district should be able to hire an additional officer and increase their hours to a total of 25 a week.

"I don't see the cons," Mayeux said of the district. "Once we have the officers on the street I don't think I'll be able to find a person who voted against this effort."

Karen Lee, president of the Hermitage Homeowners Association, is not as optimistic about the South Burbank Crime Prevention and Development District.

Formed in 2004, the district's boundaries are Gardere Lane at Bayou Fountain Avenue, Nicholson Drive, Burbank Drive and Elbow Bayou.

Homeowners living within the district pay $100 a year and condominium owners pay $25 per unit, said Lee, a member of the crime district's 11-member board of commissioners.

The fees are used to pay for things such as security guards, background checks, lighting and fences, all of which benefit people living in apartments and condominiums but not homes, Lee said.

"Why should we have to pay for background checks," she said. "I don't like the fact that homeowners are being charged for services that benefit multi-family households."

Another problem with the district, Lee said, is that the commissioners have only met once and even then only five of the 11 showed up.

"There are many things that haven't been done that have hindered the progress of this district," she said.

Regardless of a district's potential problems, Juneau said, he and other Kenilworth association members will try for the second time this legislative session to create one.

"We need to get one so we can cover the area well," he said, adding that less than 50 percent of subdivision residents are bearing the cost of association services.

The situation is similar in Shenandoah Estates. As of June, 864 of 2,100 homeowners were paying association members, Hirschey said.

One of the reasons why membership is low, Hirschey and Juneau said, is that some people believe they should not have to pay for services law enforcement officers already provide.

Although the men said they understand this line of thinking, they do not agree with it.

"Regardless of how much money and men and women you have, there always is going to be room for more," Hirschey said.
"And, what we are asking for is more tailored services."

Sheriff Greg Phares and Baton Rouge police spokesman Cpl. L'Jean McKneely said they wish they had enough people to saturate every neighborhood in the parish.

"In the best of all possible worlds we would," Phares said. "But that would be a large burden for taxpayers to bear."
Ok, first off, the use of the term "Private Security Guards" used by the homeowner association spokesman when he is referring to the Off-Duty deputies and police officers driving in department issue vehicles and wearing department issue uniforms while writing tickets and performing other various law enforcement duties while making more than $20 dollars an hour which is the minimum the officers are allowed to work for set by their departments which actually assign and coordinate the officers working those details. (deep inhale) In other words, RentaCops. They make a point of mentioning that the officers are writing tickets on their off duty time. In reality, they are on duty. They may not be working their regular assigned patrol shift but they are very much on duty. The department is getting paid for the officer to be there by a civic association instead of traditional taxes but this is still a law enforcement official, acting under color of law.
Second, aren't there private security agencies which can do much the same job for less cost than the police are charging? I mean, upwards of $50 for a RentaCop to patrol your subdivision? DAMN. And here I am happy to be getting $10 an hour.
Though it's not strictly security related I figured I'd post, rant some and see if a discussion starts from this.
So, fire away everyone. I'm sitting back waiting to read what my fellow SOs have to say.