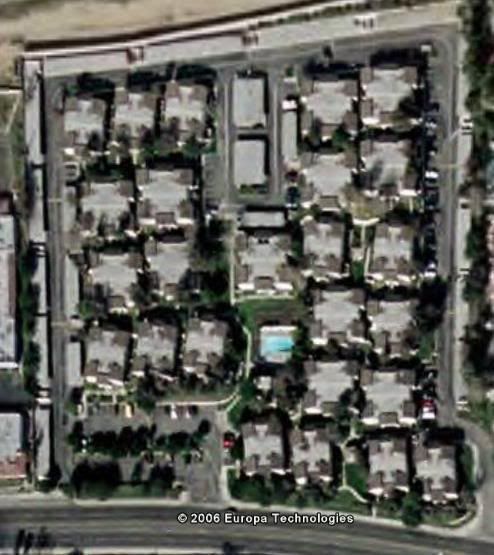 Hello everyone, I've been working the past couple months as "Courtesy Patrol" at the apartment complex above. I'm in strictly a patrol and report position. My tools consist of a flashlight, and my feet. In case you can't see it the complex has no gates, nor security cameras. When it comes to security I'm the only thing they have.
Recently we have had a string of auto thefts on the property. Something like 5 in 7 days and a more leading up to this 'crime spree'. I feel like I'm getting a lot of flak from my boss, and her boss due to the thefts. Most of these thefts have been on my days off, but a couple have been on a day I was working. However, my shift ends well before most people wake up in the morning to go to work, and there are several hours where anyone could drive by and see that I wasn't around and drive off with a car and nobody would be around to notice it. Also if I'm on one side of the complex they could break into and drive off with something on the other side before my patrol returns me to that parking lot.
My boss(es) want to randomize my days off because it seems like the car thieves know when I'm not working, but it could just as easily be that they do a simple drive by and if they don't see me(and I can't hide, I must remain 'visible') they hop out and and take a car. Their only other suggestion is to "patrol faster", which means who knows what as my direct boss can't get a explanation of exactly how fast I should be patrolling from her boss. Lets be honest I'm already expected to patrol on foot a complex, on the side of a hill, with no stops for nine hours a night - I get tired and slow.
Does anyone have some other suggestions as to what I can do to reduce these problems? I had zero training, and no other experience in security so any advice as how to help the situation would be more than welcome. Are my boss(es) feeling just as helpless as I am in stopping the situation and are just trying to do something even though admittedly the thefts mostly take place outside of when my shift happens?