THE ASP TAC LITE
This is another very popular tactical light in the law enforcement circles, it is five inches long and one inch in diameter. As with the other tactical lights, it works for about an hour on two of the 123's disposable batteries.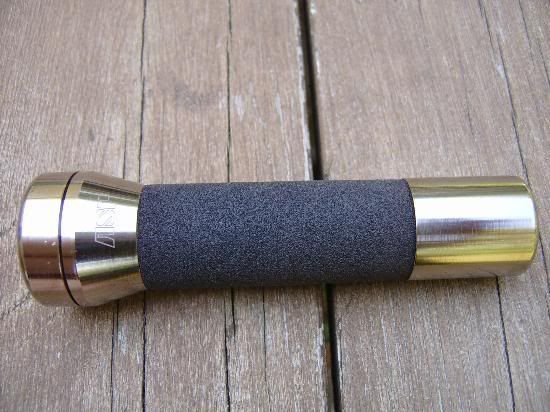 This is the bulb of the ASP light, with a shock absorbing material wrapped around the base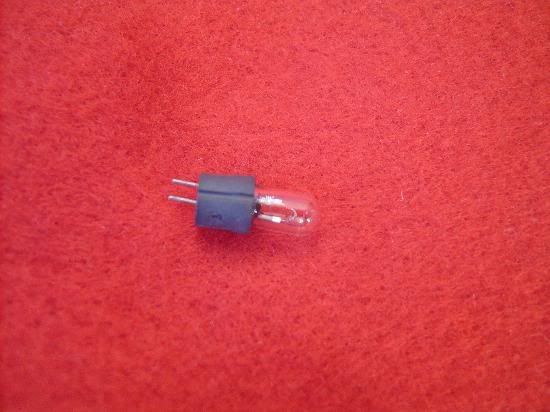 The ASP line of batons is very famous for quality and craftsmanship; this light can be coupled to an ASP baton if you so desire.
Quality foam insulates the middle of the light and is a very welcome addition in the winter months when all metal lights are too cold to handle.
The Company states 7,000 candlepower for this light
. Candlepower in this light are high because the beam is quite concentrated. The ASP TAC LITE is famous for having a far-throwing beam.
The reason for it is the smooth-mirror polished reflector and the shape of the filament of the bulb, which forms an arc, as it is quite short, the light is emitted from a smaller filament than those of others lights.
A light that reaches far is of dubious utility in the tactical field for clearing houses and the like, when its long throw hinders the flood capabilities of the instrument.
Although the light features an internal capability to make it throw more flood, it is internal and is based on repositioning the bulb in the reflector, which introduces a series of artifacts into the beam.
Surefire's with P-60 or P-61 lamps are well established as the ones that everybody likes as far as beam throw and amount of side spill; after all, most gun fights in low light situations happen inside of a few yards, and a tight beam is more of a liability than of an asset.
However I see this light as a good contender to install it in an AR type rifle, where illumination at longer distances is needed and desired.
The tail-cap houses a nice electronic switch that is quite responsive to the touch of your thumb, the switch button is recessed and the light can be used on candle mode if the operator wishes to do so.
However none of the additional features so desirable in a tactical light are present here. There is no anti-roll bezel to stop the light from rolling of a table or inclined surface, there is no fluted cap so light can escape if the flashlight is set on a table head down, and no grommet or stop to position the light in the Rogers-Surefire position.
As always the bear is set up at 18 feet from the camera and the deer at 12 feet and the light of the ASP Tac Lite is coming from the second story window from 26 yards away.
For comparison here is the beam shot of the Surefire G-2 with the 65 lumens (P-60) lamp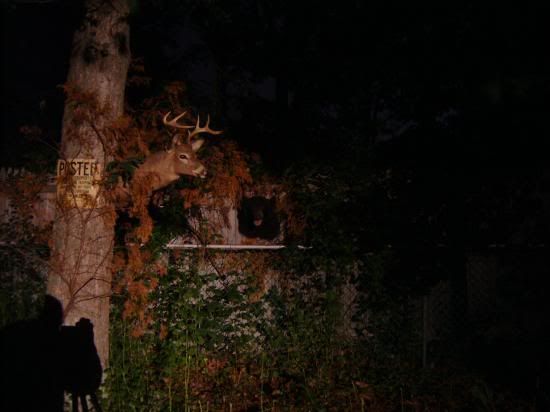 And here is the beam shot of the ASP TAC LITE, notice how the concentrate light is brighter at the target than the G-2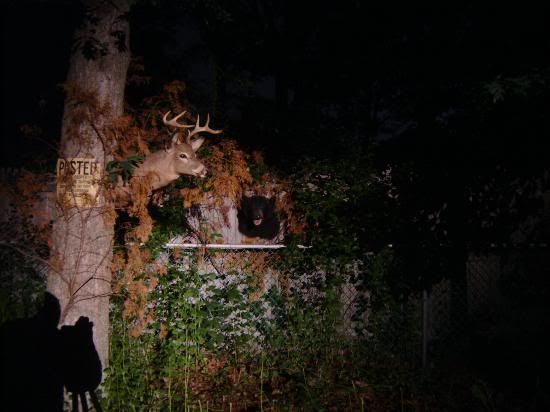 Kind regards
Black Bear