LIGHTS FOR LAW ENFORCEMENT:
This post will try to show how different lights used in law enforcement compare with each other, and will clarify the difference between the lumen ratings used in Luxeon (LED) lights and incandescent lights.
In short, I will show (through pictures) how Luxeons lack definition when used at increased distances.
I have maintained for a long time that LED Luxeons don't have the range over the incandescent to really be helpful for law enforcement. They are excellent lights to use inside the house; their beams are very clean, white and with substantial flood, and in the average house, that is all you need. However, when taken outside to the backyard, woods, or large structure and the distance to the target is 25 yards or more, they lack definition (as they lack the red spectrum of light), and their poor penetration of fog or rain makes them inefficient to clearly identify what you are seeing at that distance.
Moreover, when the subject being illuminated is an animal with a light-drinking fur (depth of texture), the blending effect of the LED's (against the background) will cause the observer to lose perspective.
LOW LIGHT FOR WRITING
As the maker of Black Bear Flashlights, I have had the input of hundred of police officers that tell me what they really need to perform their functions at night.
What those experienced officers want are three lights that will cover specific illumination chores.
First, when writing a ticket at night, or looking for a dropped pencil in the floor of their own car or any other close up chore, they want a flood light in LED form: small and with an output of 20 lumens or less (LED lumens), and preferably with a clip incorporated to free both hands for holding the pad and writing.
LEO's that have used my Fenix LOP (1 AAA) consider this light ideal (except for the lack of a clip). Another favorite is the ARC AAA. These lights can be held in the mouth without any discomfort.
Fenix has put out a bigger light (1 AA) with two stages output, and the lower output will be also ideal for these chores.
THE BELT LIGHT
Those same officers want to have a good light on their belt. Some prefer the two cell 123's lights like the Surefire 6P, G2, or C-2 for their better flood beam over the more tightly focused Streamlight Scorpion, TL-2 and Night Fighter II (it is important for them to be able to cover an average room with the light, without the need of panning it).
They look for a run time of one hour and an output of 65 lumens.
Some opt for more intense lights like the Surefire 9P or the C-3 with their 105 lumens and one hour run time.
The Streamlight TL-3 is a little too tightly focused for clearing rooms, but it will do fine in an average backyard.
In LED form (Luxeon V), the Surefire L-4 is a good contender due to the excellent flood light that it puts out at medium range inside a house.
The main thing is that the officers want to avoid losing precious seconds by panning a light when entering a room. That is why the Surefires are preferred over the tightly focused others brands.
THE CAR LIGHT
These police officers wear a light holder in their belt (a plastic and leather ring). On exiting their cars, they slip in the ring one of the powerful rechargeable lights, most commonly the Magcharger (200 lumens) or the Ultra Stinger (295 lumens) and those that favor my products, a BOREALIS 1050 lumens.
Those are ideal lights for search, clearing houses, backyards, warehouses etc. Being rechargeable, they are always used with a maximum run time (taken out of the charger at start of the shift), a thing that you can not do with 123 batteries unless you are willing to dump half-used batteries at the start of a shift.
Their large diameter (2 inches) reflectors put more light at a longer distance than any of the belt lights. Even though some of the belt lights approach 200 lumens, they do it with reduced run time and much reduced throw, due to their small diameter reflectors.
A Magcharger will put a spot of light at 150 yards, as will the Ultra Stinger and a BOREALIS, which has the capability of illuminating the whole road for 250 yards.
Those lights are ideal for traffic stops, accident sites and the ones with major lumen output can even illuminate through heavily tinted windows.
Lets start with the popular Surefire G-2 (or 6 P) at 65 lumens, the target is the 8 by 12 tool shed at 30 yards.
We are going to pit the Surefire G-2 65 lumens $35.00 against the Surefire Digital Lumamax L-4 (also 65 lumens and with a price tag of $160.00).
Surefire G-2 65 lumens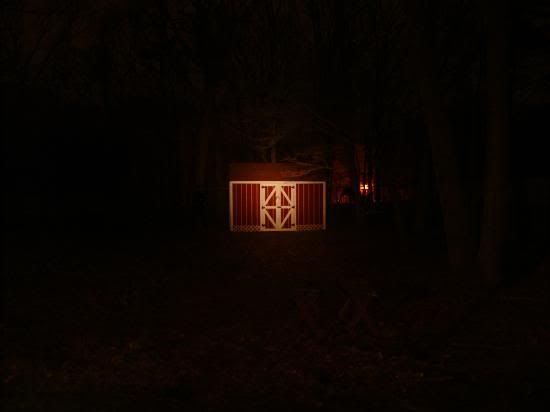 Surefire L-4 Luxeon V, LED, 65 lumens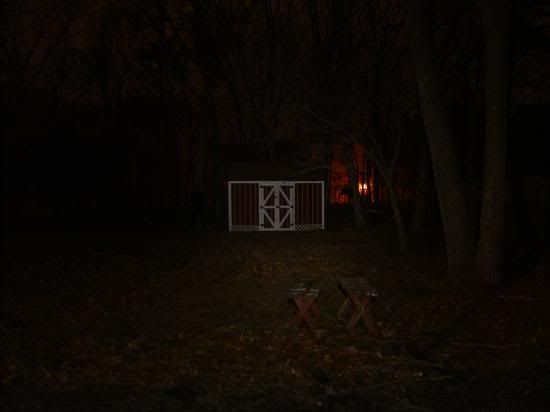 And now we are going to pit the Surefire 6 P with the P-61 120 lumen lamp (20 minutes run time) against the best Luxeon LED thrower that I have (similar to the cree LED).
This is a Mc Gizmo PR T head with a TWOJ bin Luxeon doing 120 plus lumens.
Surefire Centurion C-2 (same as the 6P) with the P-61 lamp, 120 lumens.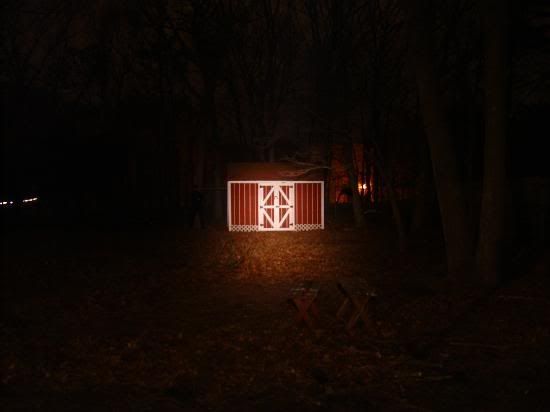 And the PR T with TOWJ bin Luxeon, (LED) @ 120 lumens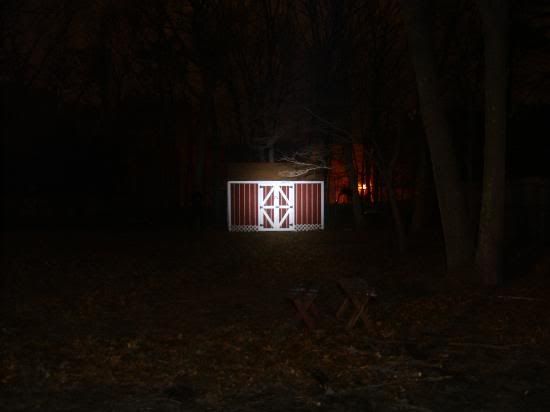 And now we are going to show a belt light of 200 lumens (The Surefire Centurion III with the P-91 lamp, 200 lumens, 20 minutes run) and three cars' lights of 200 lumens plus and beyond.
continue in next post to fit all pictures.