Some of you may have noticed these popping up at your local stores and thought about picking one up.
Here it is!
Picked this up from a Walmart.
The 2d led Maglite appears to be just a regular, stock 2D with an led bulb installed.
Pictured with it are some new batteries and an older 6d Maglite surgically modified with a 1 amp regulator, black osink adaptor and a nice TWOJ binned 3 watt Luxeon led mounted to that.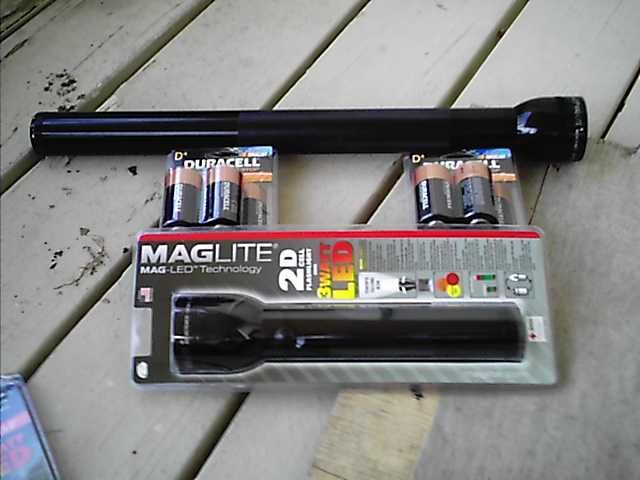 Here it is out of the package with new batteries and "2006" owners manual.
The manual makes no direct mention of the led, but does show a drawing of it and a krypton bulb in the bulb changing instructions part of it now.
Business ends of the 2 flashlights revealing that the bulb holder in the 2d is still plastic with no thermal pathway for the led to get rid of it's heat.
The good news is that;
a krypton bulb is included in the tailcap to put you back in business if the led should ever fail for any reason.
Here's a beamshot of the two 3 watt lights at tightest focus.
Here's another shot of them in flood mode.
Here is a link to a short review I did of just the led drop-in module.
link
Here is a link to an absolute excellent technical overview of these and more from Maglite by another cpf member.
link
Enjoy. :-)